Lee
provided me with tons of soundtrack and score goodyness but somehow I found a way to postpone reviewing any of those gazillion cd's (incl SG1 & SGA sweet!), some wíll certainly be done :)
But first.. Crank!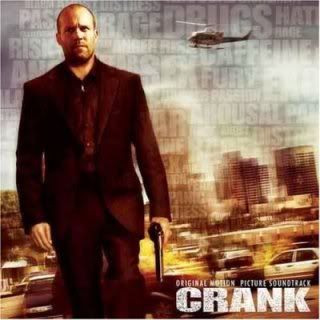 Info about the movie: check
here
, and click
here
for a bunch of lyrics.
Tracklist
1 A warrior's death (Dialog clip)
2 Quiet Riot - Metal Health
3 Nasal spray (Dialog Clip)
4 The Crowd - Trix are for kids
5 You stop, you die (Dialog clip)
6 Control Machete - Bandera
7 Small children (Dialog clip)
8 Refused - New noise
9 Chinese shit (Dialog clip)
10 Paul Haslinger - China town
11 Hardcore shit (Dialog clip)
12 Nofx - Kill all the white man
13 Dipsy doodle (Dialog clip)
14 Harry Nilson - Everybody's talkin'
15 Adrenaline junkie (Dialog clip)
16 Loverboy - Turn me loose
17 Paul Haslinger - Haitian cab ride
18 Jarret & Long - Achy breaky heart
19 Check List (Dialog clip) (listen from 1.10 at Trix are for kids)
20 David Rolas ft 10 West & Jim Barrz - Adrenalina
21 I kill people (Dialog clip)
22 Rockets from the cript - Bring us bullets
23 Eve's machine (Dialog clip)
24 Gerald Levert - Let's get it on
25 Paul Haslinger - Does she know?
26 The sleeping - Stayin' Alive
27 How much? (Dialog clip)
28 Roberto Tucson ft Erica Garcia - Meva Juan
29 Juice me (Dialog clip)
30 Tego Calderon - Guasa guasa
31 It's a miracle (Dialog clip)
32 Jefferson starship - Miracles
Most of the tracks can globally be divided in the categories of classics, punk, grimey rap, romantic tracks and the dialogs, and there's the 'other' category.
Classics
Quiet Riot's Metal health starts the movie giving off, a sneakpeak of the action rollercoaster that's about to follow. Nothing to say about this track than that it's a downright rock classic.
Turn me loose is an 80's action packed classic, which would also fit the GTA videogame series.
Achy breaky heart, who doesn't know this..personal feelings aside.., it deserves it's place in this movie with the strange relation of Chev and Eve. A pub classic.
Stayin' alive from The sleeping is a cool rock version where the guitar gives it just a bit more energy than the
Beegee's
track. Staying alive is exactly what Chev is trying to do.
Punk
The crowd's trix are for kids somehow reminds me of
Judy is a punk
on crack it's harder and louder but somehow sounds a bit alike.
Bring us bullets also has this energetic punk sound. These tracks fits the energy rush Chev needs to go through.
Kill all the white man is a mix of a relaxed reggae track with a spark of punk half-way through. It's a bit strange though..white guys singing this track ;)
Grimey rap
Bandera: if you could (you probably can) separate the moaning from the track it wouldn't misstand in a porn flick. Next to that it's a grimey latino gangstertrack just like Adrenalina (which looks like it's writen for this movie) and Guasa guasa which fit the latino gang enemies of Chev.
Instrumentals
China town and Does she know? are the instrumental tracks by Paul Haslinger. China town has a weird party sound to it. Does she know? on the other hand has the dark and somber tone that you could also find in the
Dexter OST
.
Romantic songs
There are some strange semi-romantic scenes in Crank where the next couple of tracks fit like a glove.
'Let's get it on' is actually from a Marvin Gaye tribute cd. It's not Marvin Gaye, but Gerald Levert still gives it that smooth love making touch. That's gotta end up in a certain playlist.
Miracles: a nice romantic background song that will set the mood.
Everybody's talkin' is almost a slowdance song with a tropical teint to it, the only downpoint is that the base sets in a tad to loud.
Meva Juan is a Mexican steaming dance tune which ends as abrubtly as it starts.
Other
Haitian cab ride is an instrumental but could als fit in the grime, it sounds like the cab ride Chev is taking in the movie, dark and grimey and my subwoofer loves it.
New noise: yeah! Hard rock/triphop!!! My neighbours are probably banging on all sides of the appartment now (I'm on the 6th floor). This track gives as much energy as Chev needs in the movie.
Finally there are a whole buch of
dialog clips
.
I really like how they picked the funny and strange short dialogs from the movie and put them in between the songs. I wouldn't be surprised if some dialogs were inspired by Tarantino. Especially 'Nasal spray'(
Nasal spray..wha? Nasal spray, it's got epinephrine in it, it'll get you tweaked man
) and 'Hardcore shit' (
You take this Haitian shit *...* here This shit right here is some hardcore shit, it's made from plant shit
) I've played 'Hardcore shit' around 50 times..this week I guess and it keeps cracking me up.
All in all this soundtrack uses the switching between the dialogs and the songs in a great way to tell the story of Crank.