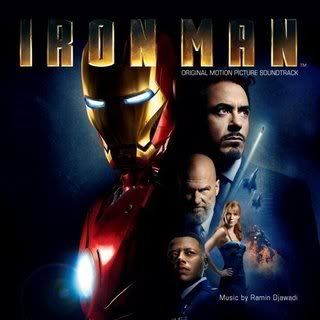 I have really strong memories of watching the 60s cartoon version of Iron Man, as I got older I started reading the comic book series and so when it finally came time for it to be on the big screen I was really excited. Fortunately the movie was awesome or I think my little fanboy heart would have broken.
As you all know part of what makes a great movie is a great soundtrack.
Thankfully Iron Man manages to deliver on this also, granted with one glaring omission. No Black Sabbath: Iron Man!? It's featured in the trailer, the game and the closing credits of the movie but does not make an appearance on the CD.
Robbed.
There is at least enough to keep most orchestral soundtrack fans happy:
1. Driving With The Top Down (3:10)
2. Iron Man (2008 version)( 1:05)
3. Merchant of Death (2:15)
4. Trinkets To Kill a Prince (3:08)
5. Mark I (3:54)
6. Fireman (2:09)
7. Vacation's Over (3:35)
8. Golden Egg (4:13)
9. Damn Kid (1:13)
10. Mark II (2:49)
11. Extra Dry, Extra Olives (1:44)
12. Iron Man (3:33)
13. Gulmira (4:06)
14. Are Those Bullet Holes? (2:00)
15. Section 16 (2:34)
16. Iron Monger (4:45)
17. Arc Reaktor (3:56)
18. Institutionalized (3:49)
19. Iron Man (0:21)
Composer Ramin Djawadi has a relatively small resume but is certainly not a stranger to the super hero movie genre as an assistant composer on Batman Begins and the composer for Blade:Trinity. A lot of this music is very much supplemental material to the film with the Iron Man fanfare sprinkled throughout the music.
I personally think that most movie scores tend to have three or four really strong tracks that epitomise the film's music and then a bunch of, I don't want to use the term filler, maybe supporting tracks is best. For those playing at home I recommend Driving With The Top Down, Merchant of Death, Vacation's Over, Iron Man and Arc Reaktor.
One of the coolest moments for Iron Man fans and what I consider to be a very clever way of tipping one's hat to the history of the character is the music that is played by the big band in the scene when Stark is to receive an award (and doesn't show) is a wonderful big band version of the theme from the 60s cartoon. This also showed up later on the movie as another character's mobile phone ring tone for Stark. I'm reminded of the use of the original Battlestar Galactica theme in the new series as the Colonial anthem.
There are a couple of other tracks on this CD, most notably Institutionalized by Suicidal Tendencies, which is catchy and was featured in Guitar Hero 2. A track by DJ Boborobo that would be just as home on any of the Chill Out albums and finally as a bonus the original cartoon series theme in all its glory (it is also my ringtone).
You can read up on Lee's life of watching movies, tv series, drawing cartoons etc on 'Quit your day job' I visited and never left. Guestposts, extra information or questions? just let me know, I want it all.