There are 2 versions, the soundtrack and the score. Apparently I got the score, but the soundtrack and the score seem to overlap.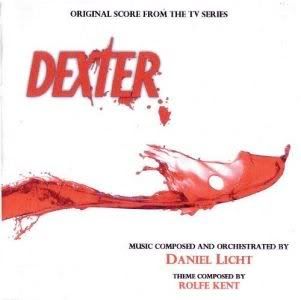 A very small synopsis snapped from tv.com:
'Based on Jeff Lindsay's novels Darkly Dreaming Dexter and Dearly Devoted Dexter this crime thriller follows Dexter Morgan. Dexter is a forensic blood spatter expert for the Miami Dade Police Department. He is the main support for his sister. He has a steady girlfriend, with two kids who adore him. He also has an active "night life". Based on a code instilled in him by his foster father, Harry, he hunts down people who have escaped justice and makes sure they don't get away with a crime again.'
About the music:
Most tracks can be put into different categories which make the score into a whole.
Eerie
Tracks like
Opening
,
Wink
,
Escalate
,
End credit
and
House
sound sinister and dark. These are sounds which give me the eerie feeling that fit Dexter as a 'good' serial killer.
Sadness
Next to the whole 'good' vs 'bad' question there's a feeling of sadness about Dexter because he has to hide his true nature.
Epilogue
has a Spanish sound with a half-hearted happyness to it and
Party
sounds a bit alike. It reminds me of the adds for depressed people who don't know 'where the fun is in a party'.
Hidden
falls in the same category with almost Western-like sounds with a Spanish twist of sadness.
Drama
There are a couple of tracks which describe downright drama like
Need time
,
Changed
,
Deb Cries
,
New legs
and
Funny
.
Photo
which is one of my favorites also fits this category. It just speaks drama. I love how you hear the shifting of the guitar players hand on the guitar (don't know how this is called).
Action/tension
Working for the police and being a serial killer at the same time brings tension and action which can be heard very well in
Ending
,
Shipyard
and
Fight
.
Can't hide
falls in between 'action/tension' and 'strangely normal' with tense xylophone plinging switching to 'a day like every day' guitar sound.
Subwoofer darkness
Connections
and
Match
make me happy with my subwoofer. A deep bass rumble describing darkness.
Strangely normal
Harry's rule
sounds like a routine day in the life of a hidden killer, a walk in the park (Harry was Dexter's dad who taught him the craft). And so does
The Dexter Theme
: watch (and listen to) it first.
Everything you see insinuates Dexter's real life: killing. The track sounds like a normal day of a normal person but you can almost hear there's more to it.
Overall:
The tv series has a very dark feeling to it. Most sane people will have moments when they think..'somebody should kill that criminal because the justice system failed'. Dexter does exactly thát. We know it's wrong but in the dark corners of our mind are glad someone does the dirty job.
Daniel Licht
did a great job composing music which captures that feeling and
Rolfe Kent
made a perfect theme. If you like soundtrack/score music, this one is a must!
Tracklisting from the score
1 Daniel Licht - Opening
2 Daniel Licht - Wink
3 Daniel Licht - End credit
4 Daniel Licht - Escalate
5 Daniel Licht - Epilogue
6 Daniel Licht - Funny
7 Daniel Licht - Need Time
8 Daniel Licht - Photo
9 Daniel Licht - Hidden
10 Daniel Licht - Can't hide
11 Daniel Licht - Party
12 Daniel Licht - Changed
13 Daniel Licht - Connections
14 Daniel Licht - Deb cries
15 Daniel Licht - New legs
16 Daniel Licht - Match
17 Daniel Licht - Harry's rule
18 Daniel Licht - Ending
19 Daniel Licht - Shipyard
20 Daniel Licht - House
21 Daniel Licht - Fight
22 Rolf Kente - Dexter Theme (also on the OST)
You can at least listen to the samples which are featured on the original soundtrack here:
Amazon link to the OST
The 'identical' tracks seem to be longer on the soundtrack than on the score though!
I'm also getting the ost, but I won't review it. It's save to say it's great music!