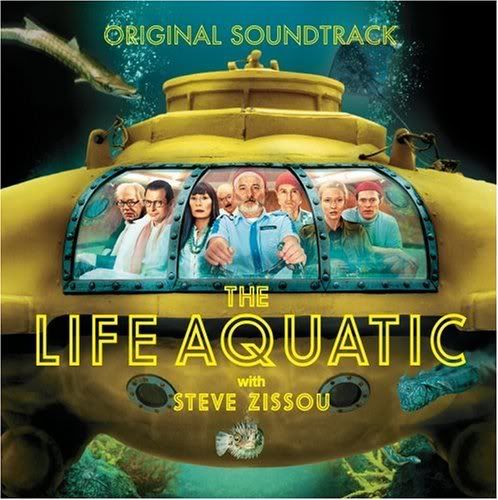 I saw the movie and had a great laugh. I might have seen it before but can't remember all that well.
Somehow I've been able to find a link to every track on this cd so you can listen for yourself.
The links only link to original music video's, but it's the music that counts.
1.
Sven Libaek - Shark Attack Theme
It's not called shark attack theme for nothing. The track sounds a bit slow but you can almost hear (see) a shark coming at you slowly with it's vin above the water, ready to attack. That'll be a jaguar shark.
2.
Mark Mothersbaugh - Loquasto International Film Festival
This really music really made me happy, it just sounds like a walk on a sunny day on which no bad things can happen. In the movie it plays on the film festival showing all the important people getting introduced to eachother and and Zissou is obviously bored.
3.
David Bowie - Life On Mars?
Sounds dramatic from the start, questioning the intelligence of life on earth.
It somehow made me think of a drowsy christmas day.
4.
Seu Jorge - Starman
A cover of David Bowie's (that is, his alter-ego Ziggy Stardust) Starman. I don't know any Portuguese, nor do I know the 'original' but Seu Jorge has a nice calm voice and I like the raw accoustic guitar.
5.
Mark Mothersbaugh - Let Me Tell You About My Boat
Zissou's boat that is. A cheerful instrumental with all kinds of instruments from flutes to guitars etc.
6.
Seu Jorge - Rebel Rebel
Another Bowie cover. Seu Jorge relaxes the songs. You can play these tracks on the beach with a camp fire.
7.
Mark Mothersbaugh - Zissou Society Blue Star Cadets/Ned's Theme (take 1)
See end comment.
8.
Devo - Gut Feeling
There are a lot of moments where you expect someone to start singing, but it's a 2 minute instrumbental before the singer from Devo begins; which I found out after thinking it sounded like The Cure, is Mark Mothersbaugh *see end comment*. Sometimes you hear a track and you immediately like it, this is one of those for me.
On a sidenote: this track was first combined with 'Slap Your Mammy' but later on the split it up. I'm not sure if this is the split-up version but I guess so.
9.
Sven Libaek - Open Sea Theme
A theme for open sea..what's in a name.
10.
Seu Jorge - Rock 'n' Roll Suicide
(just click play)
A Bowie cover like the other songs by Jorge on this cd. The Bowie track (I guess Jorge adjusted it a bit towards the movie again) seems to be about someone who is to old to be a rock n rollstar. Zissou seems to old to be hunting for his so called jaguar shark. Seu's voice makes the song even more sad than Bowie's version.
11.
Joan Baez - Here's To You
Originally for the soundtrack of
Sacco e Vanzetti
, the music was composed by Enrico Moricone which I presume you know if you ever saw a decent Western. This woman has been making music for 50!! years. And this track shows why she apparently is able to live from it.
12.
Mark Mothersbaugh - We Call Them Pirates Out Here
(in the playlist of a podcast)
Arrr erm...I like titles which are funny and directly relate to the content of the movie or whatever (other funny titles see
Lost
)
13.
Iggy & The Stooges - Search And Destroy
This track (punk)rocks! I think
Blur
has a related sound which I like. I don't know if they covered this track (at least not with a direct copy of the title).
14.
Paco De Lucia - La Nina De Puerta Oscura
(at least half of the track)
A nice piece of Spanish castagnette music, or they are clapping.
I might make a cd with more of alike music as background music for a nice dinner or so ;)
15.
Seu Jorge- Life On Mars?
Another nice Bowie cover.
16.
Mark Mothersbaugh - Ping Island/Lightning Strike Rescue Op
It's like the Shark attack's theme, a real theme. You could have replaced the sound of Zissou and his men running up Ping Island for a rescue operation with this track and it would fit like a glove.
17.
Seu Jorge - Five Years
(just click play)
See end comment.
18.
Scott Walker - 30 Century Man
I'd choose to be a giant. A nice guitar song ending in a 'music box' piece, I can't remember if there was a music box in the movie..
19.
Zombies - Way I Feel Inside
It sounds a bit too much like a sleeping song to me for a 'I'm going to spill my feelings track'.
20.
David Bowie - Queen Bitch
After all Jorge's covers, a second original Bowie track. It immediately made me want to move around. I like this side of Bowie a bit better than Life on Mars.
End comment:
I liked Mark Mothersbaugh's music on the
RTB ost.
I didn't know he was one of the founders of the band
Devo
and thought it sounded a bit like The Cure (say 'boys don't cry') and thought that the singer might have something to do with it..but they just appeared from the same period (late 70s). That was quite a surprise for me. All his tracks on this cd are just right, not too short (that is to say something about it) and not too long (where you might get bored).
All songs by Seu Jorge were covers of David Bowie songs according to wikipedia the lyrics where sometimes changed to fit the movie, nice, but as said before I don't speak Portuguese. That doesn't make the music less beautiful. He makes relaxed campfire-on-the-beach versions from them. There is also another soundtrack that is composed of 5 tracks that feature the official soundtrack and other David Bowie covers that were taken out of the movie, but re-recorded as a
studio session
.
I also liked almost all the other tracks by the other artists discovering 'new' artists is one of the things I like about soundtracks.
*next up: Dexter (the tv series)*
I might make some small posts in the meanwhile. Ideas on which soundtrack(s) should be next are always welcome.